Mark Gimenez -The new John Grisham
Mark Gimenez – The new John Grisham! and I guess it was the caption that got my attention. I enjoy reading John Grisham's books (actually read them all) and could not for several years find something similar until the year 2011!
Er, I met Mark (me thinks I can call him that cos he is such a great guy) Gimenez  at an apartment lobby in Espoo, Finland , "standing" on  a table (yeah I mean literally) waiting for the next visitor.  It was Christmas period and you know, the mood is great and it was about to get better!
So, I went closer to Mark and picked him up (oh you didn't think I met in personally in Finland or did you? ah ah- gotcha 🙂 )
No, it was his book that was on the table among other books in the lobby but the moment I picked it up and read the back page, I immediately knew it was going to be fun and tell you what, I didn't put it down until I finished it. Yes, it was that interesting!
Mark Gimenez is no John Grisham. No, he is a man and a style of his own – dare I say that he is getting better and better.
So, if you are looking for an interesting, funny, engaging and stimulating thriller to read, I suggest you start with Mark Gimenez's "The Color of Law" – Its a blockbuster of a book. I assure you that you will love it. It's easy to read and funny as anything you've never read before.
When you are done with that, pick up the sequel "Accused" and believe you me, YOU HAVE NEVER READ ANYTHING SIMILAR! You will enjoy it.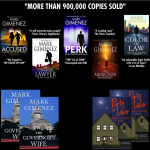 So, as it is Christmas again and so I thought, I write a little piece on it and share with you all – take it as a little present from me to you.
For a list of his books including his latest ones, visit his website
Enjoy your holiday and happy reading!