Russian Premier League 2012-13.The African Update
The Russian Premier League 2012/13 season kicked off on the 20th of July 2012 and surely as you already know that there are Africans playing in Russia's top flight football.
There are certain big names to watch out for in the Russian Premier League…the likes of Samuel Eto'o (Anzhi), Seydou Doumbia (CSKA Moscow), Obafemi Martins (Rubin Kazan) and a host of others.
So if you happen to support any of the top flight teams or you just want to see our African brothers playing live, then maybe you can go to the stadium. I took the courage (blame me not…security concerns y'a digg) to visit the magnificent Luzhniki stadium in Moscow towards the end of last season twice to watch CSKA Moscow vs Spartak Moscow and Dinamo Moscow vs CSKA Moscow.
and yes, I had a good time right from the metro when the fans were passionately chanting their respective club's songs which, can be scary if you don't understand what they are saying.

But worry not (be careful though as things can get out of hands at a twinkle of an eye) as there are some heavily armed and mean looking Policemen (and some on horses) at the metro stations in and outside of the stadium ready to curb any madness from the sometimes very volatile fans.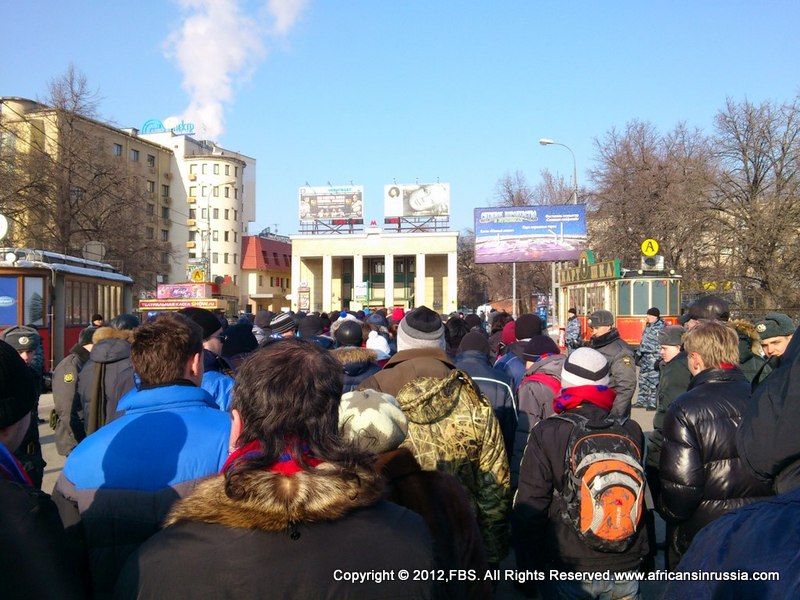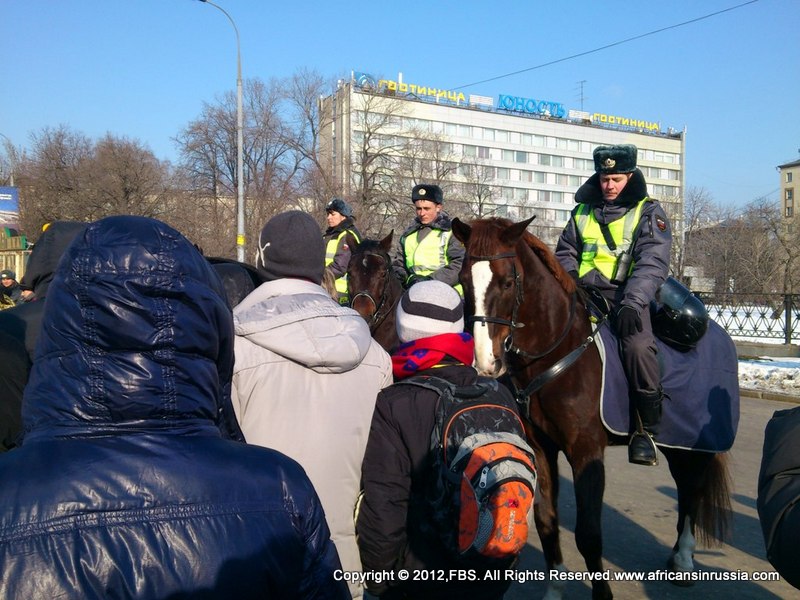 The Luzhniki stadium in Moscow itself is a huge one and quite beautiful too. Though it wasn't filled to capacity even on local and sometimes fiery derbies it was still quite interesting.
The speed and level of play in the Russian Premier League is a bit slow and can't be compared to The English Premier League but still, make sure not to go alone (take a friend) and you will most likely enjoy yourself. I have in it in my plans to attend some of the matches. Maybe when the likes of Eto'o and Chris Samba comes to town.haha)).
Truly, I had a good time at the stadium and had some hotdog at the food court though the queue was so large I had to go back to my seat. The only thing I disliked at the stadium was that people were smoking. DISGUSTING!

The tickets were/are well, quite affordable so make a date to attend at least one of the top matches.  You can see a full schedule of matches HERE
This season in the Russian Premier League promises to be interesting as the "BIG" teams (CSKA Moscow, Spartak Moscow, Lokomotiv and Rubin among others) are looking to wrestle the title away from Zenit of St. Petersburg.
Stay tuned and enjoy this video. Russians Singing their National Anthem.

CSKA fans celebrating a goal against Spartak Moscow using some very "not so kids friendly" words. See the video!