Ok, I'm one happy owner of an iPad 4 thanks to my very beautiful significant half and oh dear is the gadget gorgeous! I certainly loved it. (Sorry for my gloating,lol, the device is just so damn sweet on the outside) and thus decided to do a review of it. Now, if you are looking for the technical stuff head right here.  The review here is from a new (without any previous experience of anything Apple) user point of view so read on if you are one of those.
Given that the iPad as of today is the most expensive tablet money can buy and as such you would expect a near perfect user experience but haha,you are in for a shocker!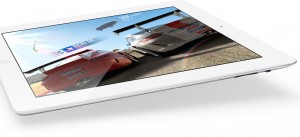 The Good!
–The 9.7 inch screen retina display is a huge delight. You simply will not want to take your eyes off it. So much clarity you will be blown away. It did just that to me. It's a great screen for reading and watching movies and of course browsing the Internet.
And if you are a lady and you urgently need a mirror, just switch off your iPad and voila, mirror mirror in your hand, who is the finest of them all? Oh yeah, it's that good.
–The keyboard-not only can you split it by pinching



typing is also so damn easy on it. In fact I'm typing this article on my iPad in a fast moving Metro and its damn so difficult for me to miss a single key! ok, maybe I'm exaggerating a little but how cool is that uh? That said, typing is cool on the iPad but editing is crazily painful.  Very tedious.
– Speed. Listen, the iPad 4 is ultra fast in every aspect. Wireless browsing, playing games or whatever it is that you can imagine or you actually do on a tablet, the iPad 4 can handle it thanks to the powerful A6X chip.
– The iOS 6.1 (The most advanced iOS EVER!!!).
-Ok,ok the design but really no biggie here…so many tablets today and most look alike at least on the outside.
– Audio sound is actually quite good. You won't be disappointed though it's not something to be overly joyous about.
– The cameras (front and back) are both ok. Not the very best but does get the job done.
More? Er, I guess that's it!
The Bad and The Ugly
Yeah that's right ,everything silly comes in twos. like fries and burgers -:)
File management – if you are used to Windows like environment I believe a lot of people are then the iPad will frustrate you for a few days. You just can't drag and drop on this 'kid' without the so much talked about iTunes ( I'm not even sure if you can at all). Personally I've decided that I don't like the iTunes for anything. I use syncios to manage my files and data and its a a million times better than iTunes plus it has an inbuilt video converter.
A lack of basic file management is the most glaring casualty of the iPad 4.
– it has no CALCULATOR! Can you believe that? No bleeping freaking calculator! Certainly this can be downloaded from  the AppStore but heck for a luxury tablet not to have a pre-installed calculator app totally sucks!
– The BIGGEST ANNOYANCE IS THE BLUETOOTH file transfer or rather the LACK OF IT.  Ah no, the iPad 4 has Bluetooth but apparently CANNOT BE USED TO TRANSFER FILES! ! ! Did you know that? I did not.
– NO TORRENTs ALLOWED! – Yes, you CANNOT download movies, songs, apps, games etc via torrent. Well except you jailbreak  your iPad 4.
– The iPad 4 DOES NOT read AVI video files among others. You will have to convert your AVI files to an iPad readable format- preferably MP4 or you can download or purchase VM Player HD from the App Store. This app will read your AVI files.
– Lightning ! Yup that's right. Why Apple decided to change the charger and data transfer cable and by default rendering previous accessories useless we will never know. I guess Apple wants you to buy the "new" iPad 4 solely because of the lighting data cable. They also claim this aides the device to charge faster (note: faster than the previous iPads) and data transfer as well. Personally I didn't notice any difference. Ripping people off just cause they made a fancy cable and called it lightning? Apple could as well replace the standard 3,5mm audio jack with an even smaller one and call it SPARKLE! And then charge a premium for it. What a rip off!
– Battery life –  the general claim from apple is that you can use the IPad 4 for 10 hours! Er, I think it's an outright false information. Based on my experience and I do not claim to be an experienced iPad 4 user (though I doubt you need any experience at all to know how long your battery lasts) it lasted ONLY 4 hours after intensive usage – Internet browsing and watched 2 full length movies of 3,5 hours.
Also keep in mind that when you try to charge the iPad 4 via your computer the device will show – 'not charging' but it is actually charging but slooooowly.
– Weight : truth be told, the iPad 4 is heavy at 652g and I doubt any one can call this light by any standard. It's a heck of a job holding it with only one hand for more than 60 seconds.
– The screen– yes it's retina and all that but you could be staring at yourself when watching movies with a dark background and this become even more pronounced if you are out in the sun. The mother of all lights will blast right on your iPad screen. Likewise, sometimes the screen does not always react sharply as you would expect when you touch it.
Final verdict: Look, even a three year old kid can operate the iPad 4 at basic level easily but it becomes a challenge for an advanced adult/user. Don't freak out though as there are over a hundred trips and tricks to help you get the best out of your device.
Should you buy it? Hmm… personally,  I probably wouldn't want to do that but as a gift its cool to give to your loved ones. The iPad 4 will certainly keep them busy all day.  Do keep in mind though  that there are loads of cheaper options out there that can  equally get the job done right out of the box.